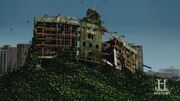 After people, in Chicago, there is no crew to maintain Wrigley Field. After 1 year without people, the outfield wall ivy is continuing to spread, it has been here since 1937, and now with no groundskeepers, the ivy begins to overrun the entire stadium. 5 years after people, the ivy has completely blanketed the stands and in the in-field buckthorn has grown to 10 feet tall. 50 years after people, after 5 decades of wild growth Wrigley Field is unrecognizable. The wooden scoreboard is now covered in ivy, and is crumbling under a seige of termites, causing its collapse. Buckthorn has shutout the playing field. In just a few more years the ivy will cause the entire stadium to collapse under pressure.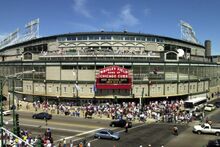 Community content is available under
CC-BY-SA
unless otherwise noted.