The United Nations Headquarters, located in New York City, are where the assembly and administrative offices of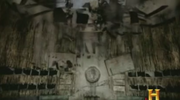 the United Nations are located. The United Nations Headquarters consists of the General Assembly Building and the Secretariat Tower. Now after people, the flags of over 200 member countries, arranged alphabetically form Afghanistan to Zimbabwe, still flutter along First Avenue.
2 days after people, all of the 1800 seats in the General Assembly Building are empty. A strange glow emanates from inside the United Nations Headquarters, in the sub-basements luminous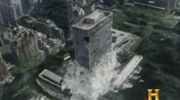 signs still give off stored energy in the form of greenish-yellow light, from the building's regular lights. Last used in the 2003 East-Coast blackout, the lights lose their energy after 20 hours and they join the rest of the world in darkness.
5 months after people.The flags start to blow away.
1 year after people.The poles that used to hold the flags of the member countries soon also blow of their rusted foundations.Some blow into windows of the Secretariat Tower.Others pinch Lady Liberty.The charred remains of the San Remo is also hammered by the poles.

175 years after people; the dome of the General Assembly Building fails and collapses. The 39-story Secretariat Tower outlives the General Assembly Building but flooding is now eating away at the Secretariat Tower's foundational columns. Finally the foundational columns fail and the Secretariat Tower collapses into the East River.