The US Bank Tower, located in Los Angeles, USA, is the tallest building west of the Mississipi river. The tower was built between 1987 and 1989. Like the
Taipei 101
, the US Bank Tower was built on a heavy seismic region and was designed to witstand a earthquake of 8.3 on the richter scale. Orginally known as the Library Tower because it was built as a replacement of the library that burned down in 1986, the tower changed name to US Bank Tower after several banks moved into the structure. In 2004 a sign was placed on the "crown" of the building. Now without any human to operate the banks, the US Bank Tower might be the last recognizable building in Los Angeles.
10 Years after People: With no humans to fight southern California's frequent wildfires, one of the wildfires advances into L.A. and guts the interior of the US Bank Tower, along with all of the other L.A. skyscrapers.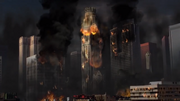 50 Years after People: The US Bank Tower was built to withstand earthquakes, but fire damage and 50 years of neglect have weakened the building. Finally the Big One, an earthquake measuring 8.0 on the richter scale, strikes Los Angeles. The earthquake causes part of the skyscraper's top floors, like the crown and the sign, to slough off and fall from the building. However unlike Aon Center, Los Angeles City Hall or the Hollywood Sign, the US Bank Tower survives the quake.
600 Years after People: The US Bank Tower is still standing even after most other skyscrapers have fallen. The building owes its longevity to being constructed with a central core of concrete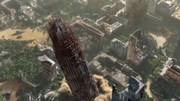 . If the US Bank Tower were located in a colder climate its central core of concrete would have been damaged from freeze-thaw cycles, but those do not occur in Los Angeles. Finally a moderate earthquake collapses the US Bank Tower.