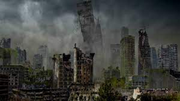 The JPMorgan Chase Tower, located in Houston, is the tallest building in Texas.
20 years after people;The JPMorgan Chase Tower looms over a Houston that is reverting back to a swamp.
200 years after people;After hurricanes and Houston's subtropical climate have reduced the building to a metallic skeleton for decades, Houston's JPMorgan Chase Tower finally succumbs to corrosion and collapses.