The Hollywood Sign is a landmark in Los Angeles, California. Situated on Mount Lee in the Hollywood Hills area of
the Santa Monica Mountains, the sign's letters are 45 feet tall. The sign is featured in the episode The Capital Threat.
The Hollywood Sign will survive a wildfire that occurs 10 years after people, as although the letters look like they are wood, they are actually made from steel. The fire, which is fed by the Sign's acrylic latex paint, damages the bolts that support the letters however, meaning that it will be no match for The Big One earthquake, that would occur 40 years later.
Timeline
10 Years after People
The W in the Hollywood sign has fallen off. After a decade, Los Angeles experiences a major wildfire which sets the Sign on fire. Since the Hollywood Sign is made of steel, it will survive the inferno, despite the acrylic latex paint feeding the fire and causing damage to the bolts supporting the letters.
50 Years after People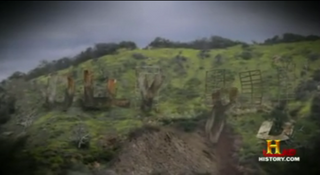 The D in the Hollywood sign has fallen off. Meanwhile, The Big One an earthquake measuring 8.0 on the Richter scale finally hits Los Angeles. After fire damage and fifty years without maintenance, the bolts that support the letters shear off and the remaining letters slide down the hill.
Trivia
It is unknown why the W and D letters in the Hollywood Sign fall off earlier than the others.
Despite this, the D letter is shown falling off in all of the season 1 episode intros, with the exception of the episode Armed and Defenseless, which shows the Empire State Building collapsing instead.