Hearst Castle is a mansion located in San Simeon, California that was built for newspaper magnate William Randolph Hearst in 1919. This house was designed with ceilings that were suspended above the rooms they covered. This helped to make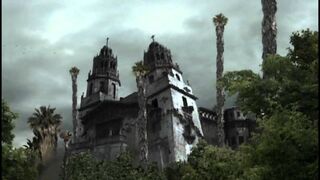 the house earthquake-resistant.
Hearst Castle's biggest flaw is that beach sand was used in the concrete that was used to construct the mansion. The salt in the beach sand hastens the degradation of Hearst Castle's concrete structure until 200 years after people when an earthquake causes Hearst Castle to collapse.