The Golden Gate Bridge is found arching over the entrance to San Francisco Bay. It was built from 1933 to 1937 and it was regularly repainted. But after people and with no onearound to repaint or to cross the bridge, how long will it stand?
Timeline
100 Years after People: After a century without maintenance, the bridge's trademark scarlet color peels down.  After two or more steel cables fail due to moisture from fog and rain, the remaining cables soon snap and the whole deck collapses into the waters of the San Francisco Bay below. The top of the northern suspension tower is also brought down with the main collapse of the bridge. Now, only the skeletal towers of the bridge remain. Eventually, they, too, will collapse.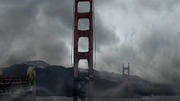 300 Years after People: After three centuries after people, the Golden Gate Bridge is almost unrecognizable.  The last big chunck of the deck plunged twenty years after the deck collapsed. Now the towers are damaged and almost all the paint has come off the towers. Both towers soon fall into the water of the San Francisco Bay. Now, no signs of a bridge are left.
Video