The Chrysler Building, located on Lexington Avenue in New York City, is the  
third tallest building in the city exceeded by the Empire State Building and the Bank of America Tower (New York). Considered a leading example of Art Deco skyscraper design, the Chrysler Building was the worlds highest building after it's completion in 1930, until the Empire State Building was finished 11 months later. The construction of the tower was paid by Walter Chrysler, and his company, Chrysler Coroporation, worked in the tower until the mid-1950's. Steel eagles decorate the 61st floor and radiator caps on the 31st, both which was used on Chrysler's car. Chrysler building is also known for it's crown designed roof. But how long will this stunning building of steel will last? 
Timeline
50 Years after People: The Chrysler's "Steeple" will remain shiny, being buffeted by winds. The eagles will loosen from the building and make their first and only flight to the street below where they smash to pieces.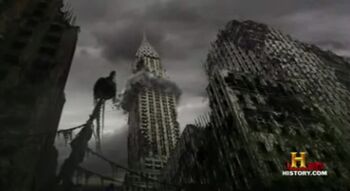 150 Years after People: The "Chrysler's Steeple" is finally giving out. 150 years without maintenance has taken it's toll. The steeple is a rusting, steel skeleton.
200 Years after People: With the collapse of most of the modern skyscrapers, New York's skyline is a throwback to the Great Depression. Although it lasts longer than the Empire State Building, the Chrysler Building's Steel and Masonry structure now finally collapses. The collapse of the Chrysler Building also destroys a nearby building. New York City's skyline is now unrecognizable.