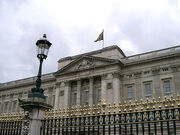 Buckingham Palace is the official residence of the queen. Built in 1705, it's size was doubled. Now in a life after people, the queen is nowhere to be found, and nature takes her throne. After people, Queen Elizabeth's corgis are now trapped inside her magnificent home.
2 weeks after people: The corgis make their way to the kitchens, and start to eat the food there. They survive by drinking toilet water.
3 months after people: The food supply is gone and the corgis break out, as Buckingham Palace is invaded by nature.
5 years after people: The Buckingham Palace is breached by vines and greenery.