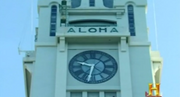 The Aloha Tower is a clock tower in
Honolulu
,
Hawaii
,
United States
. But how long will it last without people?
4 days after people; Without people to wind the clock, the Aloha Tower stops working.
150 years after people. The Aloha Tower, a lighthouse and clock in one and a structure that welcomed thousands of imigrants to Honolulu ,finally collapses into Pearl Harbour.